Timekeeping Should Be Easy and Accurate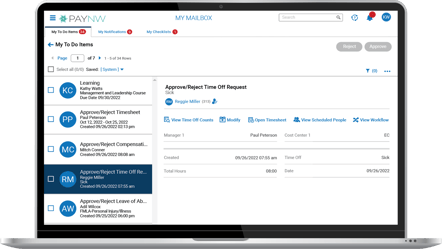 Our automated Time and Labor system helps businesses optimize employee productivity while reducing labor costs by enabling businesses to be able to more accurately pay employees for the time worked.
Our Time and Labor System Improves Productivity, Reduces Labor Costs and Entry Errors, and Drives Better Decisions
Of all the areas within the HCM Suite, nothing saves you more time and money than time and labor management.
Managers can create work schedules built for performance and productivity; monitor and measure overtime; process time-off and leave requests; maintain compliance with complex federal and state labor regulations using tools such as accruals; eliminate errors as well as rounding and fudging by employees, and increase payroll processing productivity.
Watch Our Time & Labor Management Software In Action
Watch our Time and Labor Demo Video today, and get a real-time look at the tools and features of our powerful timekeeping technology.
See the Full Capability of our Powerful Time and Labor Solution
Download our time and labor feature list today to learn more about how our solution will save you time, money, and frustration.
What PayNW Clients Have To Say...
Your team has been incredible in the transition. Our communities are excited about the new clocks and software and have echoed the compliments for your team. What we have seen from PayNW reminds us of some of the great customer service organizations like Disney or Nordstrom, the old-school Disney and Nordstrom.
- Bill S