Employee Scheduling Should
Save Costs and Optimize Performance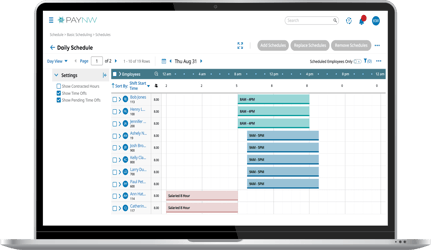 With our employee scheduling tool, employers can quickly fill open shifts, maximize productivity and engagement, and minimize overtime, taking into account everything employee preferences and company needs without the manual headaches and processes.
The right person, in the right place, at the right time. Every time!
Workforce scheduling is a time-consuming, and downright frustrating task. In order to be successful and create schedules that work, you need to balance employee availability, preferences, seniority, pay rates, skills, and certifications with fluctuating business demands.
Above all, businesses can keep labor costs under control without compromising service quality or productivity.
PayNW is an excellent alternative to large national payroll and workforce management solution providers. The team really knows how to implement amazing national-scale products and deliver exceptional customer service. As an HR Manager with well over 200 employees and multiple cost centers, linking our accounting system to our people systems by importing into our general ledger is a huge time saver. We appreciate PayNW's attitude of acting as our partner.
- Michelle Hohlbein,Trojan Lithograph
Renton, WA

Enhance Scheduling With Text Alerts For Shift Changes, Additions, & More!
Download our TeamText Overview today to learn more about how our text alert solution can help you improve your employee scheduling process.