Payroll Should Be Simple & Stress-Free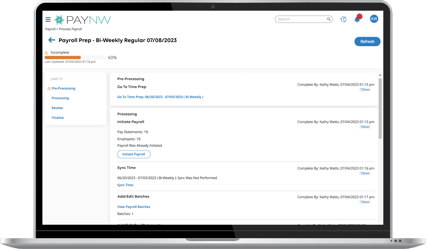 Payroll data is at the heart of employee records. Enjoy the confidence of knowing that your payroll data is accurate, available in the cloud and secure, and never out of sync with other employee information.
Payroll Solutions For All Business Types
Finally, an HCM platform designed for simple and complex payroll processes, and the professionals who manage them. The platform's payroll tax, accrual, cost center, and reporting engines provide a high level of precision, performance, and reliability when it comes to payroll. Managers can expect automatic notification reminders for important events and critical tasks, while data and reports are exportable into common formats, such as Excel, Word, PDF and HTML.
Watch Our Payroll Software In Action
Watch our Payroll Demo Video today, and get a real-time look at the tools and features of our powerful payroll processing and payroll tax technology.
Take A Look At All The Full List of Payroll Solution Features
Download our payroll feature list today to learn more about all the areas this solution can streamline and improve your payroll processes.
Tax Registration Services Available with Payroll
Get your new states registered for payroll taxes quickly and easily with PayNW's Tax Registration Service.

At PayNW, we're experts in payroll tax registration. We're fast and efficient, ensuring that your new states are registered as quickly as possible so you can start paying payroll taxes in compliance with state regulations and have confidence knowing that your registration will be done correctly and on time.
We'll handle the entire process for you, from registration to setup to tax processing, so you can focus on what you do best: running your business. Whether it's Washington Payroll, or someplace else, PayNW has experts to cover you, so you can avoid some of the biggest payroll mistakes we see companies make.
Contact us to learn more.
What PayNW Clients Have To Say...
PayNW is an excellent alternative to large national payroll and workforce management solution providers. The team really knows how to implement amazing national-scale products and deliver exceptional customer service. As an HR Manager with well over 200 employees and multiple cost centers, linking our accounting system to our people systems by importing into our general ledger is a huge time saver. We appreciate PayNW's attitude of acting as our partner.
- Michelle Hohlbein,Trohan Lithograph
Renton, WA