Posted By PayNW May 04, 2015
PayNorthwest marks occasion by presenting lucky small business client Columbia Athletic Clubs with giant commemorative check in Sammamish, Wash.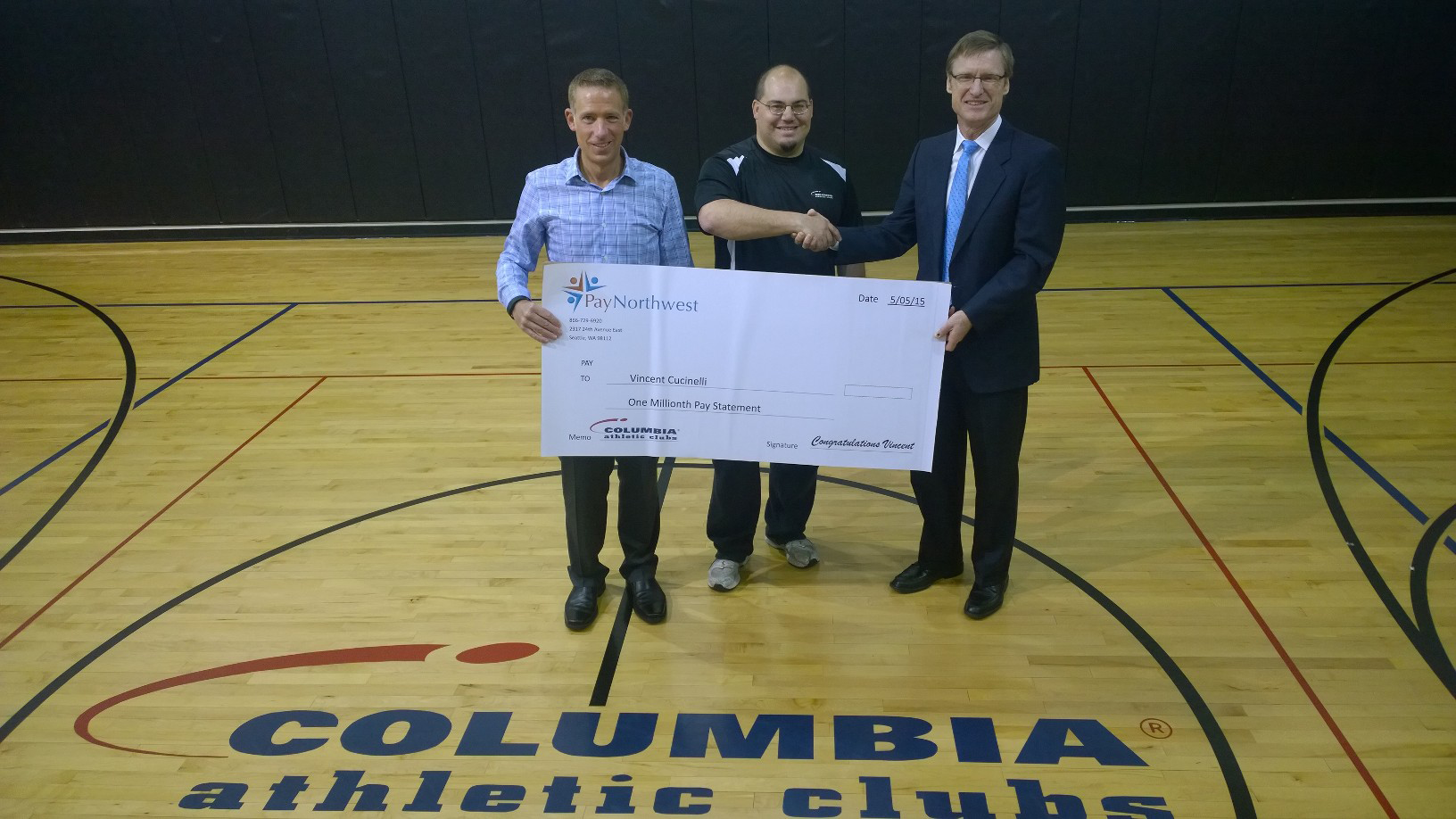 May 5th, 2015: PayNorthwest congratulates Columbia Athletic Clubs for being its one-millionth outsourced pay statement.
From left to right: Glenn Farringer, Columbia Athletic Clubs; Vincent Cucinelli, Columbia Athletic Clubs; Mike Anderson, PayNorthwest LLC
PayNorthwest LLC announced today that it has processed its one-millionth outsourced pay statement on its WorkforceLumina platform powered by Kronos SaaShr. To mark the occasion on the second day of National Small Business Week, the Seattle-based provider of cloud-based human capital management software and services presented lucky client Columbia Athletic Clubs with a giant commemorative check and gift certificate in Sammamish, Wash. PayNorthwest helps small- to mid-sized businesses and non-profits more effectively manage their workforce and streamline their human resources (HR) and payroll function. The company has grown by an average of 54 percent over the last three years.
In a report entitled The hidden reality of payroll & HR administration costs, PricewaterhouseCoopers estimates that companies outsourcing payroll spend 18 percent less on average than businesses that keep it in-house. However, when it comes to small businesses, the National Small Business Association's 2013 Small Business Taxation Survey reports that 60 percent of 1,500 small business owners process their payroll function internally, with nearly one in four spending more than six hours per month – which is at least 72 hours per year or nearly two full work weeks. Assuming the hourly cost for internal payroll staff is $36 (Bureau of Labor Statistics' 2012 data), these 72 hours translate into $2,592 per year – hours that they are not spending on other important functions such as sales or customer service.
"Payroll is one of the biggest expenses small businesses face. When we started out in 1981, adapted technology was either not available yet or was too cost-prohibitive," explains Glenn Farringer, vice president of finance for Columbia Athletic Clubs. "Like other small businesses, we had major challenges with payroll reporting and really needed software with adequate functionality. Over the years, we have implemented other payroll systems, but haven't been happier since we moved to PayNorthwest. Since implementing PayNorthwest's payroll solution in September 2012, we have access to accurate and detailed payroll information in real time, leading to happy employees."
"As a small business ourselves, we understand that they already have to face way too many obstacles and payroll administration should not be one of them," adds Michael Anderson, president, founder, and CEO of PayNorthwest. "The beauty of our flexible human capital management solution, which includes payroll, HR, and time and attendance tracking, is that it grows with our clients and is more affordable than the national big-box providers – a win-win all around."
About PayNorthwest LLC
Founded in 2008, PayNorthwest LLC is a human capital management software and services firm headquartered in Seattle, Wash. It helps businesses from 2 to 2,000 employees in a variety of industries as well as non-profits more effectively manage their workforce and streamline their business with single-source, cloud-based human resource information system (HRIS), time and attendance, and payroll solutions. For more information, please connect with us via LinkedIn or Twitter.
About Columbia Athletic Clubs
The backbone of Columbia Athletic Clubs' fitness programming is to inspire healthier lives. Our vision is to offer our members with excellent service and be the number one provider of health and lifestyle services in every community that we serve. Headquartered in Kirkland, Wash., Columbia Athletic Clubs employs 440 people in four locations around the Puget Sound – Kirkland, Sammamish, and two in Everett. For more information, please visit us online at www.columbiaathletic.com.